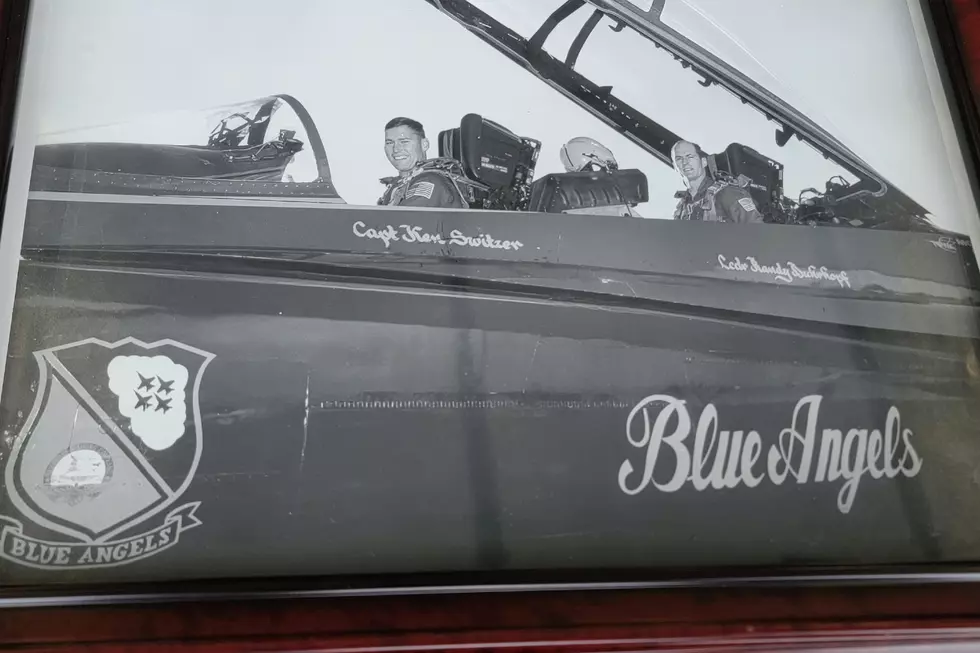 A Montana Blue Angels Pilot Looks Back 32 Years
Photo credit Ken "Thumper" Switzer
Call sign "Thumper." 32 years ago he was in the cockpit as a US Navy Blue Angel. On Friday, Ken Switzer, aka "Thumper", looked on as two pilots with the Blue Angels landed in Billings, Montana.
Thumper is on the board for the group that is organizing this summer's Yellowstone International Air Show in Billings.  He's also a retired Brigadier General who retired out of the Montana Air National Guard in 2014.
I caught up with Thumper....err- General Switzer...at the Edwards Jet Center on Friday afternoon, shortly after the US Navy Blue Angels landed.
Aaron Flint: 32 years ago, he was in one of these very seats as a Blue Angel himself. Retired, I think as what- a brigadier general here in Montana, you live in Bozeman. Now you're on the board to make this airshow happen. 2023. Billings, Montana. What was it like for you seeing this bird land on the ground right here in Billings, Montana?
General Ken "Thumper" Switzer: Oh, I got goosebumps. Amazing. Well, and this airplane right here, the Super Hornet, it's levels above what even we flew. It's fast. It's awesome. It's loud. It's all the cool things that you'll want to see. And this is just one of the airplanes. Wait till we get all six here, right, and fly in formation.
Thumper was the #7 pilot 32 years ago. His #8 co-pilot from back in the day made the trip to Billings for Friday's landing as well. Both of them are featured in the black and white photo below.
Aaron Flint: For you being a former pilot yourself, are you kind of wishing you could jump right back behind the behind the wheel here so to say?
Randy "Durk" Duhrkopf: Absolutely. You stand a little bit taller when you see these blue and gold jets come in, and and these jets are just a little bit bigger than the ones that "Thumper" and I flew. But these are beautiful jets and yeah, you reminisce and you kind of miss- you'd like to have that stick and throttle in your hand and do some turnin' and burnin'.
Keep an eye on our podcast page from Monday's Montana Talks statewide 9A hour for the full audio.
LOOK: 23 astronomical events to look out for in 2023
Sta



cker
compiled a list of 23 astronomical events to observe in 2023 using a variety of news and scientific sources.