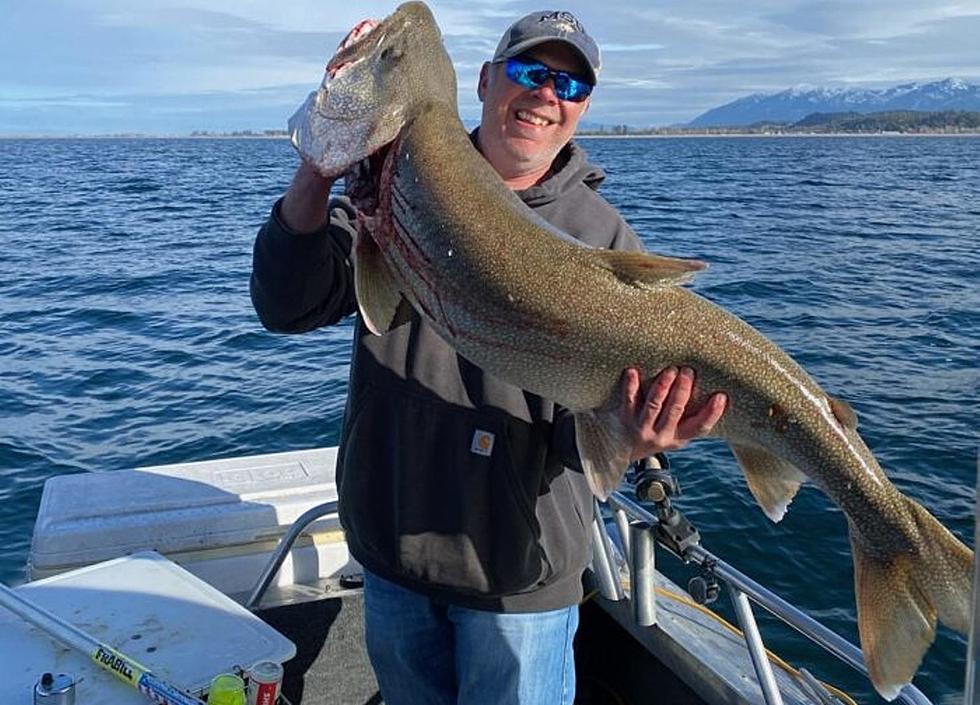 Gigantic Lake Trout Landed During Flathead Lake Tournament
Image courtesy of Brian Long via montanaoutdoor.com
It may or may not be a "money" fish, but we get the feeling an excited Montana angler is okay either way.
The Spring Mack Days (lake trout) fishing tournament is in progress through May 13 on Flathead Lake. The tourney format is one of the most unique in Montana, covering an 8-week span where anglers can fish as many or as few of the tournament days they want, in an effort to be at or near the top of the leader board to capture their share of the $225,000 in cash available. Mack Days are sponsored by the Confederated Salish and Kootenai tribes. There are no entry fees.
QUANTITY OVER QUALITY
True, the goal of these tournaments is to restore a balance in Flathead Lake by reducing non-native lake trout and therefore helping increase native bull trout and westslope cutthroat trout. To date, a total of 15,023 lake trout have been entered in the 2023 spring event so far. The overall total for the 2022 event at this time was 11,014, so anglers are really rockin' it so far this spring!
SIZE DOESN'T MATTER. AND YET...
An Easter surprise and a catch of a lifetime happened for Bryan Long of Columbia Falls. This past Sunday, Bryan reeled in a 36.65-lb., 45.5-inch lake trout. The girth on the laker was 27 inches around. Bryan said he could not believe how big the lake trout was, especially its enormous head, when he first saw it. He was fishing with a couple of other anglers who were able to help get the fish into the boat.
A STATE RECORD?
Well, no. But Bryan is not complaining. The Montana state record for a lake trout, also  caught on Flathead Lake, is held by Ruth Barber from Lakeside who caught a 42.69-lb., 42.5-inch lake trout in 2004. Bryan's lake trout was longer but the girth was not as big-around as Ruth's fish.
Still, Brian could be in the money for catching that one fish. One of the prizes is $500 for the largest lake trout turned in during Spring Mack Days. That prize is sponsored by Bretz RV and Marine.
ALL THE REALLY BIG MONEY FISH STILL LURKING
Another tournament feature is cash prizes for "tagged" fish. Cindy Benson, Mack Days tournament director, explained that select lake trout have their adipose fin clipped and a tag that can be scanned is also inserted in the jaw. If anglers know what they're looking for, they can easily detect a clipped fin, and turn them in for instant cash prizes starting at $100. Of course, they don't know the exact amount until they turn it in.
While some money fish have been turned in, there are still tagged fish in the lake with values of $1,000 (6 fish), $5,000 (3 fish) and $10,000 (1 fish). Over 9,000 fish have values of $100-$500.
The last $10,000 winner was turned in during Fall Mack Days, 2021.Yep, it does happen.
ANGLERS CAN STILL ENTER
As you can tell, it only takes one fish to be a winner. Entries are taken until the last day of the event.Get more details and register info on the Mack Days website.
And good luck to all! Maybe there will be some actual spring weather for the last month of the tournament.
21 Unique Courses at the University of Montana
Here are 21 unique courses that I bet you didn't know were offered at the University of Montana.
10 Best Steakhouses in Montana
If you live in Montana, you have to love a good steak dinner now and then. Luckily, here in Montana, we have steakhouses that spread far and wide throughout the state. If you are traveling through Montana or vacationing around the state, give one of these places a try.