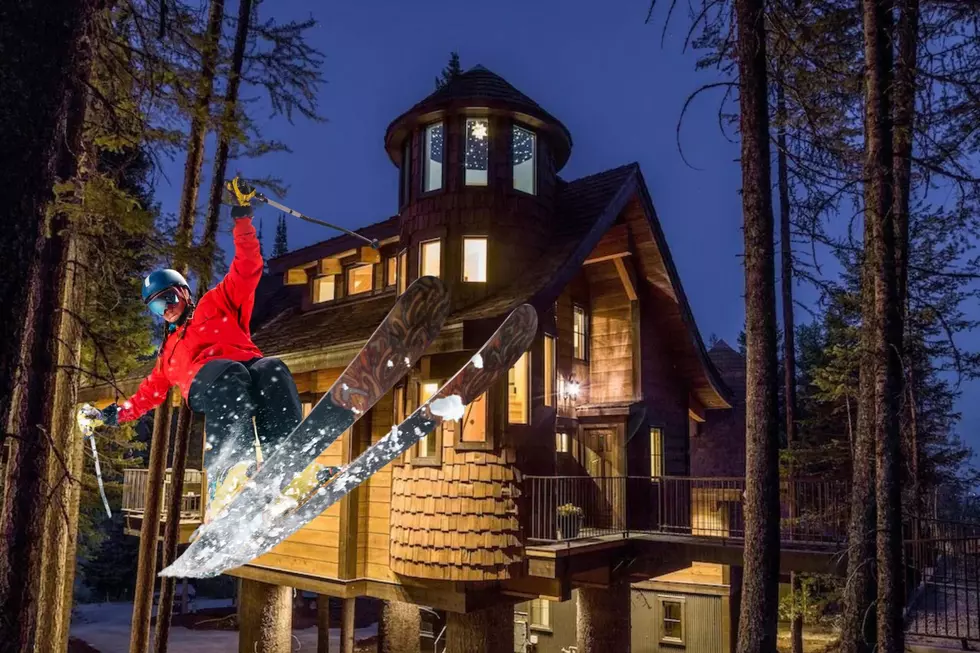 The World's First Ski-In/Out Luxury Treehouses Are in Montana
Credit: VRBO
I grew up in the country.
When I was young, my parents owned 40 acres. Half of the property was farmland and the other half was wooded, with a river as a border on one side. It was an awesome place to grow up. As a child, the woods seemed massive. My two younger brothers and I spend hundreds of hours in the "forest" shooting at squirrels and rabbits with our pellet guns, making earth dams in small streams, and attempting to build a cool tree house.
We envisioned something like the image below.
Our childhood tree house attempts were awful.
Keep in mind, we were only around 11, 10, and 8 years old, so our construction skills were not exactly advanced. Nor was our budget. We asked our dad for scrap lumber and stole borrowed boxes of nails from his shop. We never completed much more than a very basic platform, stuck between two trees. I'm sure there are still many of my father's hammers and handsaws lying rusty and long ago buried by decomposed leaves in that woods.
Snow Bear Chalets are anything but rustic.
The luxurious chalets are probably technically not tree houses, as it appears they are built on tall cement pillars instead of being attached to living trees. However, the platforms boost the cabins right into the trees for an authentic tree house experience.
Literally, ski out your front door.
"Ski in/ski out" seems to have different meanings at some resorts, but these treehouses are sitting mere steps from the ski run at Whitefish Mountain Resort.
Unparalleled luxury.
The VRBO listing for the unique chalets states that the posh accommodations made Time Magazine's list of 100 Greatest Places in 2018.
Plenty of room for six.
The two-bedroom, two-bath, 820-square-foot treehouses have a total of six beds in each chalet.
Don't miss the turret!
Perhaps one of the coolest things about the Snow Bear Chalet is the castle-like turret that rises above the peak of the roof, offering 360-degree views and LED twinkle lights in the ceiling. Cozy!!
Total relaxation.
It's been years since I skied or boarded, but after looking at the pictures of this awesome place, I kind of want to book it for a long weekend in Whitefish. I glanced at dates in early November and they're renting for $629 per night. For a weekend in early January, rates climb to around $1,200 per night. Check out more awesome pictures and find full details about the property HERE.
LOOK: Here Are the 25 Best Thanksgiving movies of all time