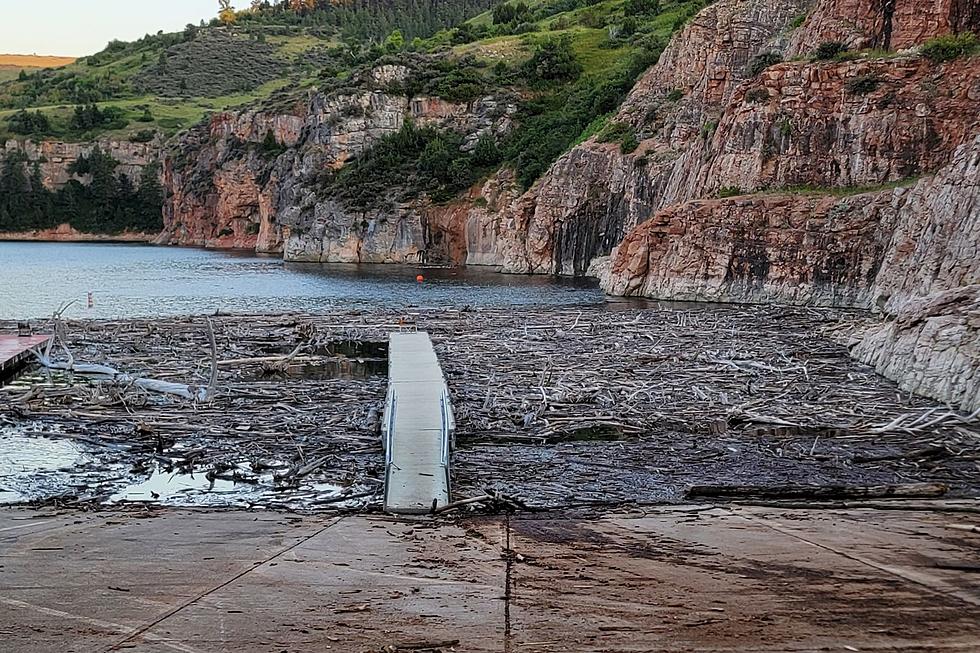 Massive Amount of Logs Pile Up at Montana Reservoir
Credit Aaron Flint
Hats off to the National Park Service (NPS) and Bureau of Reclamation rangers and crews who were working hard in near 100 degree heat at Yellowtail Dam near Hardin, Montana over the weekend.
While parts of Northwest Montana are low on water right now, parts of Southcentral Montana have gotten a LOT of water, especially since June. As a result, Yellowtail Dam and the lake that comprises the Bighorn Canyon National Recreation Area is right around full pool. As of July 22nd, the latest data showed the lake elevation at 3,641 feet.
A LOT of water has been coming down that canyon. As a result, all of the logs that have been sitting on the shoreline are now getting picked up by the current and pushed downstream. While the canyon was still very much navigable once you got out of the marina, as you can see in the photo above- logs were piling up at the Ok-A-Beh Marina near Fort Smith.
Believe it or not, the photo above was taken on Friday night. Earlier in the evening, the left lane of the boat ramp was clear and boats were able to enter the water. (Getting back out may have been more of a challenge)
A similar story happened on Saturday where boats were able to get into the water and navigate the marina to get out into the canyon, but then on Saturday evening there was a pile up of boats waiting to exit the marina as the ramp was down to one lane due to all the logs.
All this was, of course, despite the hard work in the summer sun by the NPS rangers and crews who were working to push the logs out of the water and then clear them off the boat ramp with a backhoe. The logs just kept coming.
Offbeat adventures: Travel to the coolest hidden wonders in every U.S. state
Fuel your offbeat travel dreams.
Stacker
found the coolest hidden wonders in all 50 U.S. states (plus D.C.) using data from
Atlas Obscura
.
[WARNING: Under no circumstances should you enter private or abandoned property. By doing so you risk bodily harm and/or prosecution for trespassing.]