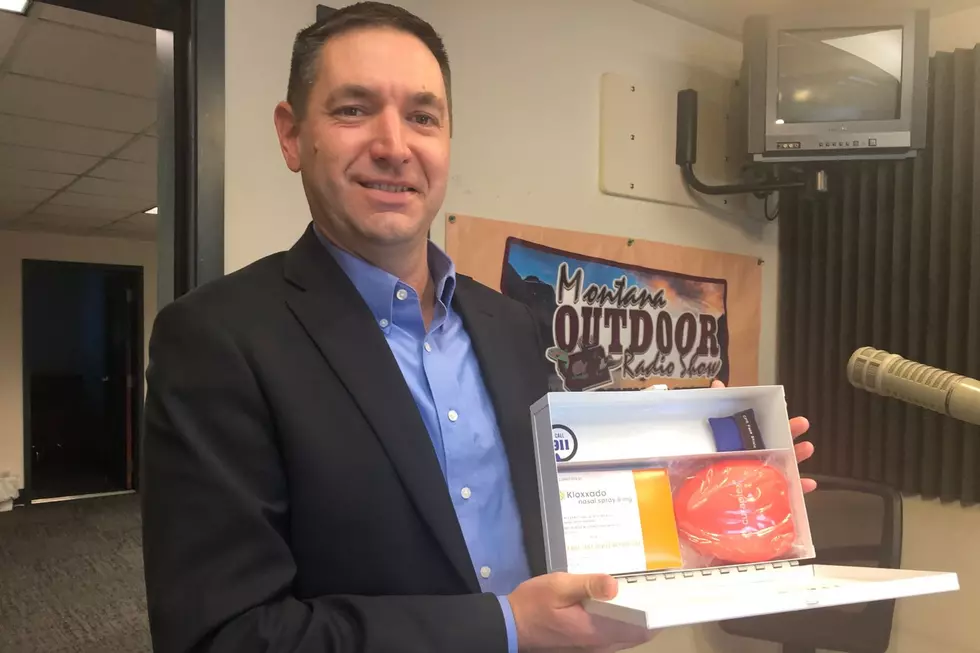 Montana AG Has Show and Tell with Fentanyl Reversal Kit
Credit: Peter Christian
Missoula, MT (KGVO-AM News) - Radio is not a visual medium, however, Montana Attorney General Austin Knudsen was in Missoula on Wednesday and brought the new 'Opioid Reversal Kit' into the KGVO Talk Back studio to emphasize the seriousness of the fentanyl crisis in Montana.
"The last couple of days we've been running around with a great nonprofit called Voices of Awareness," began Knudsen. "They've put together a kit that the State Department of Justice here in Montana is very seriously looking at. It looks like a first aid kit. You open up this cardboard box and inside of it is a steel small white box that you can mount on a wall. It looks just like a first aid kit. But, actually, it's an opioid reversal kit."
It looks Just Like a 'First Aid Kit' but it's for Overdoses
Knudsen described the contents of the Opioid Reversal Kit.
"What we've got inside of this thing is a dose of Naloxone, otherwise known as Narcan," he said. "It's a very fast-acting opioid inhibitor that is our number one defense against fentanyl. It's great stuff. It's administered nasally and it literally blocks the opioid receptors in your brain and we can often see reversals almost instantaneously to bring someone out of an overdose."
Funding for the Kits Coming from Opioid Settlement Money
Knudsen explained where the funds came from to help supply these kits throughout the state.
"In the state of Montana, via the Department of Justice, we're about to start getting a pretty large chunk of money from one of our large opioid settlements," he said. "Now, this is the actual opioid manufacturers after a large group of states got together and sued because the opioid industry was pushing prescription opioids. We got a big settlement and these fentanyl first aid kits, I think, might be a great way for us to spend some of that money. We want to get these things out into the schools and public places in Montana and hopefully, we can do some good with them."
Knudsen provided the following statistics on overdoses in Montana:
'Preliminary data from public safety and health entities from across the state show there have been 987 drug overdoses this year – 846 non-fatal and 141 fatal – according as of November 15. In 2021, there was a total of 977 – 834 non-fatal and 143 fatal.'
Knudsen said all the Fentanyl in Montana Comes from the Southern Border
Knudsen emphasized the fact that all of the fentanyl coming into Montana comes directly through the wide-open southern border. He related an incident after being invited to Texas and witnessed Homeland Security Secretary Alexander Majorcas cancel a crackdown on illegal immigration.
"We ended up getting a very in-depth briefing from Governor Abbott himself from the head of the Texas Department of Public Safety, just seeing how big the problem is," he said. "The State of Texas appropriated $4 billion with a 'B' to enforce border security because the feds have just laid down on the job. And Texans are paying for it. But what we realize is it's not just Texas, it's all of us states. I mean, there are no border states anymore. 100% of the fentanyl that I've been talking about, comes across the southern border."
It was announced on Wednesday that Knudsen was elected Vice Chairman of the Republican Attorneys General Association.
Click here to listen to the entire hour conversation with Attorney General Austin Knudsen.
Missoula Reaction to ESPN GameDay in Bozeman
We asked Missoula on our
Facebook page
what they thought about ESPN GameDay going to Bozeman. Here's what they had to say:
21 Unique Courses at the University of Montana
Here are 21 unique courses that I bet you didn't know were offered at the University of Montana.