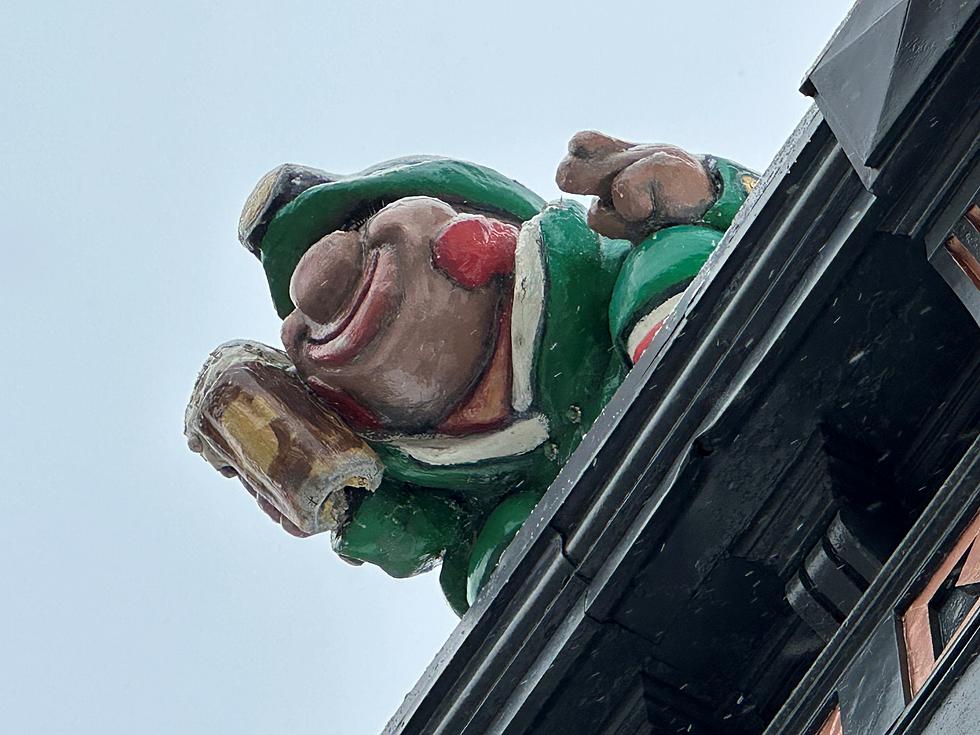 Taverns and Bars you need to visit on St. Patrick's Day in Butte
Irish Gargoyle above Maloney's preparing to watch over 2023 St. Patrick's Day crowd. Photo: Tommy O/Townsquare Media
St. Patrick's Day 2023 in Butte, America, the Richest Can-Do Hill of Champions.  The long winter is almost over, and this year St. Patrick's Day is on a Friday.  Friday St. Patrick's Days, let's just say, can get a little crazy.  Should you find yourself in Uptown Butte, as many of you will, here are a couple watering holes you need to visit.
 The M&M
While the original, historic building was destroyed in that tragic fire a couple of years ago, the M&M has re-opened in its new location at 17 N. Main Street.  The old location's place in history and legend may never be replaced, but they plan to rebuild, and the new location is serving up their famous Garbage Omelets and Ground Round Cheese D's, just like the old days.
Big Butte Casino and Lounge
Literally Butte's newest hot spot, the Big Butte Casino and Lounge opened just days ago on the first block of East Park Street also known as the Owsley Block, just east of Northwestern Energy.  The Big Butte has plenty of room along with 20 gaming machines and a stage for live music.  On St. Patrick's Day, Levi Blom will perform from 4 to 7 and High Ore Road will play from 8 to 11.
Richest Hill Casino and Lounge
The Richest Hill is known for its fun demeanor, big parties and live music.  St. Patrick's Day will be no exception as John Montoya will be playing live from 4 to 7pm followed by King Friday from 8 to 11.
Metals Sports Bar and Grill
Metals Sports Bar and Grill, while at the epicenter of St. Patrick's Day festivities on the corner of Park and Main, might just be the place you take five and reboot.  Of course, they have a full-service bar but it's their food that is going to keep you going late into the evening and their spacious dining area will definitely be welcomed by weary legs.
Party Palace
The Party Palace simply lives for days like St. Patrick's Day.  One of the busiest bars in the Mining City, the Party Palace is known for its entertainment and very reasonable drink prices.  The Party Palace, as it has done for years, offers patrons free rides homes and has prevented an uncountable number of DUIs through this service.  If you want to go 100%, the Party Palace is your place on St. Patrick's Day.
The Axe Bar
The Montana Axe Bar and Throwing Co. at 37 W. Park is a relative newcomer to the Uptown scene but their enthusiasm is unmatched.  The Axe Bar has become a hot spot because it is a bar where you actually can throw an axe, albeit in a cage and under supervision.  The sign up front admits it's a "temporary" Irish bar for St. Patrick's Day but it's location on Park just west of the Party Palace guarantees a huge St. Patrick's Day crowd.
Maloney's
Maloney's at 112 N. Main is an Irish bar if you couldn't tell by the leprechaun that peers from it's roof or the big shamrock that is inlaid in the sidewalk directly outside.  Maloney's is the place where many get their first St. Patrick's Day drink because it is blue-collar, no-frills and no B.S.  Maloney's couldn't be more Irish even if it had a brogue.
Five Things You Must See When Visiting Butte, Montana
Butte, Montana is a history buff's dream. With a history of being a rough-and-tumble mining camp, Butte is home to one of the largest Historic Districts in the nation and a has some fascinating things to see whether you're visiting for a day or for the season.
Know Your Butte History: Standing Mine Headframes
Dozens of mine headframes used to dot the Butte hill but most have since been torn down or swallowed by the Pit. Here are the ones that still tower proudly over our town.
Famous TV Shows That Couldn't Get Made Today
These well-known TV shows and franchises would have a lot of trouble getting on the air today.
The Best Vince The Sign Guy Signs in 2023 (So Far)
Vince the Sign Guy posts fun signs daily from Bayfield, Colorado. Here are the best from 2023, so far.