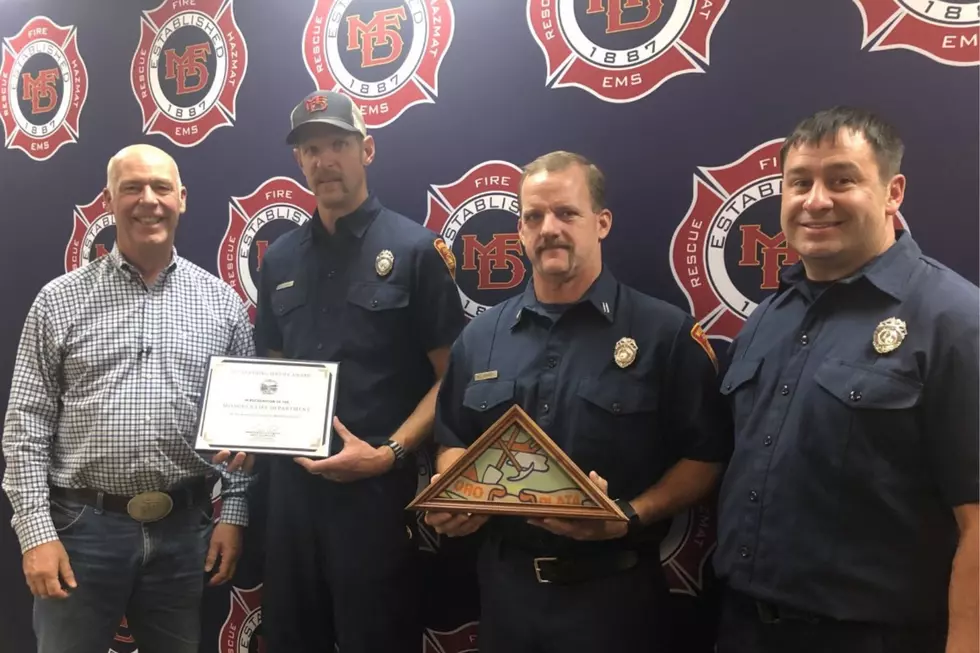 Governor Gives 'Spirit of Montana' Award to Missoula Firefighters
Credit: Peter Christian
Montana Governor Greg Gianforte was in Missoula on Thursday afternoon to present the 'Spirit of Montana' Award to members of the Missoula City Fire Department for a dramatic rescue that occurred on July 16 when a paraglider crashed 80 feet up in a tree coming off Mount Sentinel.
Missoula Fire Department Captain Bill Bennett described what happened that day near UM Married Student Housing.
"We received recognition graciously for a paraglider rescue that we did in mid-July," said Captain Bennett. "It was an abnormal circumstance that turned out to be a very unique rescue. Fortunately were able to accomplish the rescue and get the injured party off to the required medical care. We appreciate the recognition from the governor and for all of us here at MFD. We're just happy to do the job and look forward to serving more in the future."
Aside from being in a tree 80 feet in the air, we asked Captain Bennett to describe the most challenging part of the rescue.
"It was probably getting them out of his harness," he said. "Honestly, he's in his paragliding harness with a parachute over him, and he's injured, and so without injuring him further, we needed to extricate him and get him to the ground. So, yes, after accessing him, removing an injured party from a parachute is not something we do every day."
Governor Gianforte said his 'Spirit of Montana' award was created for just such a heroic incident.
"I was really pleased to be able to present to them the Spirit of Montana award," said Governor Gianforte. "We like to find folks doing exceptional things and that is certainly the case here. It's what Montanans do. Neighbors helping neighbors. "They don't know what they're going to face every day when they come to work."
Gianforte related the facts of the rescue that led to the award presentation on Thursday afternoon.
"July 16 2022, was an exceptional day," he said. "They had a paraglider 80 feet up in a tree and they had to get him down. So I was pleased to present to them a flag that I flew over the State Capitol in their honor along with this certificate, and it's a way to say thank you to not just these gentlemen, but everybody that suits up every morning and comes to work to protect us and make sure that they are there when we need them."
Also presenting the award was the newly appointed Mayor of Missoula, Jordan Hess.
20 Impressive Features at the New and Improved Missoula Airport
Missoula's new airport will include large windows for loved ones to watch planes depart and arrive, and the only escalator on this side of Montana! Plus, a keggerator system for the Coldsmoke Tavern.
14 Destinations to Visit With Direct Flights From Missoula
Here's a list of places to visit (and things to do while you're there) with nonstop flights out of the Missoula Montana Airport.