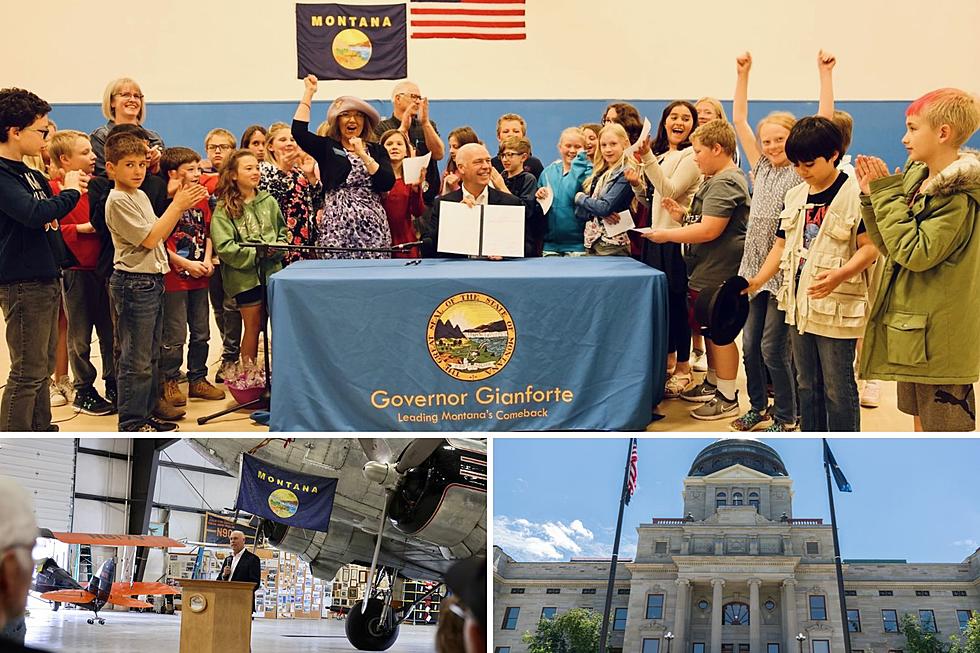 Montana Governor Celebrates a List of Achievements
Credit Gov. Gianforte's office/ Canva
What got these 4th graders in Vaughn, Montana so excited? Well, the governor just signed THEIR bill into law.
Montana Governor Greg Gianforte (R-MT) joined us in our radio studios on Wednesday morning, prior to travelling to Vaughn for the bill signing ceremony. Before we got to the long list of bills that the governor has now signed into law, including an elimination of business equipment taxes for 5,000 Montana businesses, he had to tell us about the bill he was just about to sign into law.
Gov. Gianforte: One of our state legislators went to visit the fourth grade class in Vaughn, explaining how a bill gets done. And one of the little students said, could I write a bill? And she said, yes. They drafted the bill. It passed the House, it passed the Senate, and it was a pretty good idea. So I'm going to the classroom today with these kiddos. I'm gonna sign the bill right in their class. Here's what it does. It makes the Huckleberry the official state fruit.
And here's the photo of the bill signing:
What other bills has the governor now signed into law? The governor of course touted the income tax relief and rebate checks that will be going out soon. He also touted the relief on business equipment taxes.
Gov. Gianforte: We've raised the exemption on business equipment tax to a million dollars. So if you have a tractor, you're not going to pay tax on that anymore. Well, that took 5,000 businesses off the tax rolls. We fixed what was broken. We fixed the state prison. We fixed behavioral health services. We put $200 million dollars into roads and bridges that we can lever up with federal dollars. So it'll be over a billion dollars going into roads and bridges, particularly county roads and bridges, as well as state roads and bridges.

 
The governor also touted multiple pro-life bills, the red tape relief bills, and the state being debt free, saying "we have a lot to celebrate."
Full audio:
Gallery — Every Movie Theater Candy, Ranked: