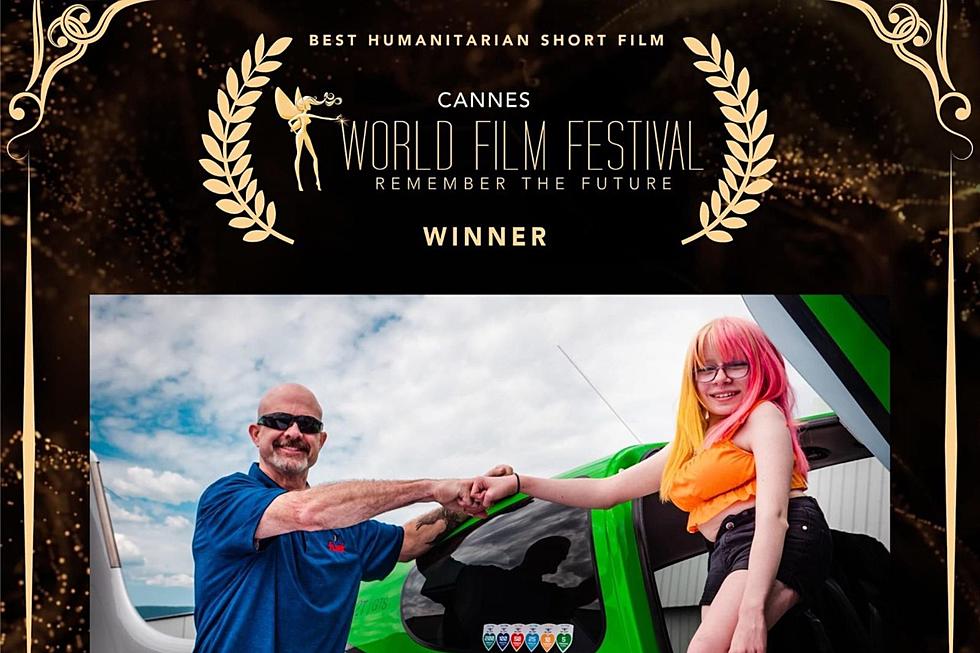 Missoula Documentary Receives Award at a World Film Festival
Credit: Joe McNeal
Missoula, MT (KGVO-AM News) - 'Angels do Fly West', a documentary filmed in Missoula by producer, director, and actor Joe McNeal, recently received The Humanitarian Award at the Cannes World Film Festival in France.
KGVO first interviewed McNeal, along with Angel Flight pilot Michael Burks and then 17-year-old Mya, who has osteogenesis imperfecta and requires specialized treatment in Seattle.
KGVO Listeners first Met Mya in July of 2021
Click here to read the original story first broadcast on KGVO on July 1, 2021.
Angel Flight is a group of independent pilots who fly children that need treatment to their appointments free of charge.
McNeal shared the reaction from the film crew and all involved as Mya and her mother first told their story.
"When you listen while we were interviewing them, the entire crew that was filming and working behind the camera, we all had tears in our eyes because they just touched our hearts so much," said McNeal. "Maya is one of the most amazing little girls I've ever met in my life, and her mother Carly, she is just, I mean, it's hard to even put into words really."
McNeal Began Entering the Film in Documentary Competitions
After 'Angels Do Fly West' was produced, McNeal said he entered the documentary in several competitions throughout the U.S. and internationally.
"It started hitting a lot of the festivals and we wanted to get it out there," he said. "In the last two years I don't even know the exact count, but we've received wins and nominations nationally and internationally. I think we've received 21 or 22 different wins and nominations for Most Inspirational Film, Best Short Documentary, everywhere from Paris, France to Japan to Los Angeles, Las Vegas, and New York."
'Winning at Cannes is like Winning the Super Bowl'
McNeal said the best and most exciting award was yet to come.
"This last award that we just received a couple days ago; it's one of those 'if it's a dream don't wake me up', Peter, because we won the Humanitarian Award for a short film at the Cannes World Film Festival. This Humanitarian Award has my name is on it and I received it, but the Humanitarian Award is for the pilots."
McNeal said the unsung heroes for the children and their families are the Angel Flight pilots.
"When you look at Michael and all pilots in the western United States or even across the nation that fly for Angel Flight, these people are the humanitarians," he said. "These people are the ones that are putting themselves out there paying the bills, to get these families to their appointments, at no cost, especially during these catastrophic times for them medically and to receive a humanitarian award at such a prestigious event, as at Cannes in France is like winning the Super Bowl."
McNeal said the award itself will be presented in late April, and he hopes to have a Missoula premiere showing this spring.
LOOK: The 25 least expensive states to live in
LOOK: 23 astronomical events to look out for in 2023
Sta



cker
compiled a list of 23 astronomical events to observe in 2023 using a variety of news and scientific sources.