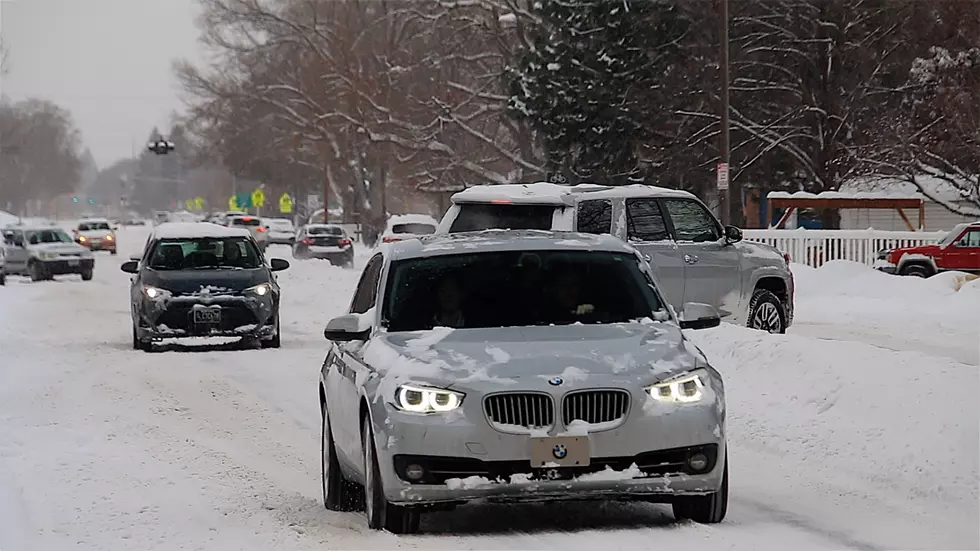 Missoula's Growth Putting the Pinch on Snow Plowing
Snow can really pile up during major storms in Missoula- Dennis Bragg photo
It's not just big snow storms that are putting pressure on snow removal operations for the City of Missoula. 
City Deputy Public Works Director Brian Hensel says growth is also making it difficult to keep up with storms like the ones we're seeing this week.
When the city ordered nothing but emergency travel during the height of the season's first significant snowstorm on Monday it wasn't just an illustration of Montana weather. It was an example of the difficulties Missoula plow crews are running into as the city, and its traffic, expand. 
Longer storms present real pressure on snowplow crews
And Deputy Public Works Director Brian Hensel says the situation is worse when major storms last for more than a couple of hours.
"I can't control when a snowstorm is going to hit there," Hensel explains. "And we have a priority system, so that's snow when it hits we gotta give those priorities first. And then what if the snow doesn't stop for 12, fourteen, or 24 hours? We have to keep going on those priorities."
Appearing on a recent "Talkback" show, Hensel explained the move to add smaller plow rigs to clear residential streets a few years ago has been working. But even that's seeing pressure.
"And they get to pick those routes. The only stipulation I give them is if you say start at the west side of your area for one snow event, the next one start at the east side. Work your way through. Now that's five pickup plows. 60% of the streets of Missoula are on the priority system. 40% are not. That's five plows to hit 40% of the streets," Hensal says. "Now we have not updated our snow maps yet. With all the growth from last summer. I may have to change those percentages when I see where all these new streets are and how many more centerline miles were added."
Missoula's growth isn't helping
Under the priority system, the city considers issues like traffic volumes, steep hills, bus routes, schools, and business access. But the growth is forcing the city to reassess those priorities… with nearly 340 miles of streets needing cleanup.
"In some of these snow events, you could double my fleet of plows and operators and it still wouldn't be good enough. We just need more in these big snow events and some of the cul de sacs. Some of these outlying streets. And now, with the city seeing this massive growth, it's going to even be more challenging as we go on." 
Anyone with questions about the snow removal program is encouraged to call 406-552-6360.
Montana's Top 10 Record-Setting Wild Weather Events
Montana is named Big Sky Country for several reasons, not only grandiose Sunsets but impressive weather events as well! Ask any Montana resident who has scoffed at the idea of tossing a blanket or snow shovel in the trunk of the car " just in case". Here is a list of Montana's Top 10 Record-Setting Wild Weather Events