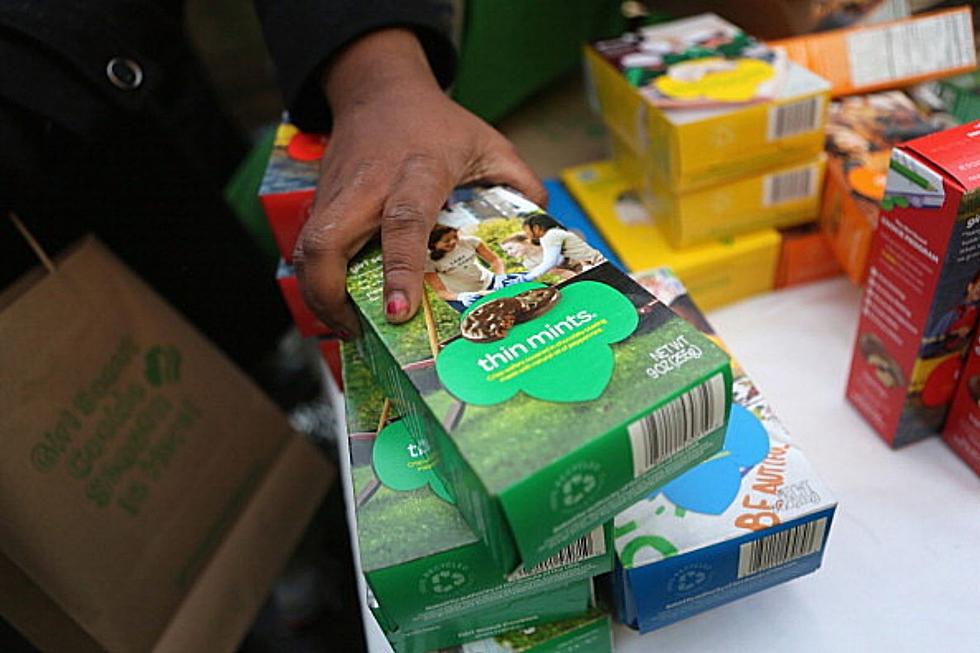 A New Girl Scout Cookie This Year! And They're Almost on Sale
Photo courtesy of John Moore/Getty Images
If you stuck a microphone up to my stomach right now and listened to the playback of what you recorded it would probably sound something like "nom nom nom nom nom." Or if you're more of a visual learner, just hit play on this video below! I imagine it would sound exactly like that. Yep, that would be the sound of my stomach celebrating the fact that we are exactly one month away from being able to place our orders for Girl Scout Cookies.
Orders start February 4th
The only thing better than the Girl Scouts starting the pre-orders of their cookies is when the Girl Scouts drop off sample boxes at the radio station to promote the pre-orders of their cookies. It's always a glorious day around the office when we get an early peek at the newest cookies along with the classic Thin Mints, Samoas, and the rest of the lineup.
The Girl Scouts are introducing a new cookie option this year
One of those cookies we're eagerly awaiting to try is the new Adventurefuls. If you're a brownie fan the newest addition to the cookie family might get your taste buds' attention.
An indulgent brownie-inspired cookie with caramel-flavored crème and a hint of sea salt, Adventurefuls take cookie lovers on a delicious taste adventure just like Girl Scouts go on their own amazing adventures all year long. -Girl Scouts website-
Brownie, caramel, and just a taste of sea salt? They sound (and look) pretty good to me!
Sorry to get you thinking about Girl Scout Cookies
How rude of me. Here we are just a few days into January and you might be working hard on some type of health goal while I ramble on about cookies. My bad. Just keep February 4th in mind as you're busy tackling your resolutions. By then you should have either lost a few pounds or decided it was time to give up trying. And either way, you'll be ready to place that pre-order!
LOOK: 50 famous memes and what they mean
With the infinite number of memes scattered across the internet, it's hard to keep track. Just when you've grasped the meaning of one hilarious meme, it has already become old news and replaced by something equally as enigmatic. Online forums like Tumblr, Twitter, 4chan, and Reddit are responsible for a majority of meme infections, and with the constant posting and sharing, finding the source of an original meme is easier said than done. Stacker hunted through internet resources, pop culture publications, and databases like
Know Your Meme
to find 50 different memes and what they mean. While the almost self-replicating nature of these vague symbols can get exhausting, memes in their essence can also bring people closer together—as long as they have internet access.
The 14 Best Places in Missoula to Take Visitors From Out of Town
We asked locals where they like to bring visitors when they take a trip out to Missoula - and here's what they came up with.
The Worst Movies of 2021
There were plenty of great movies in 2021. And also a ton of stinkers.