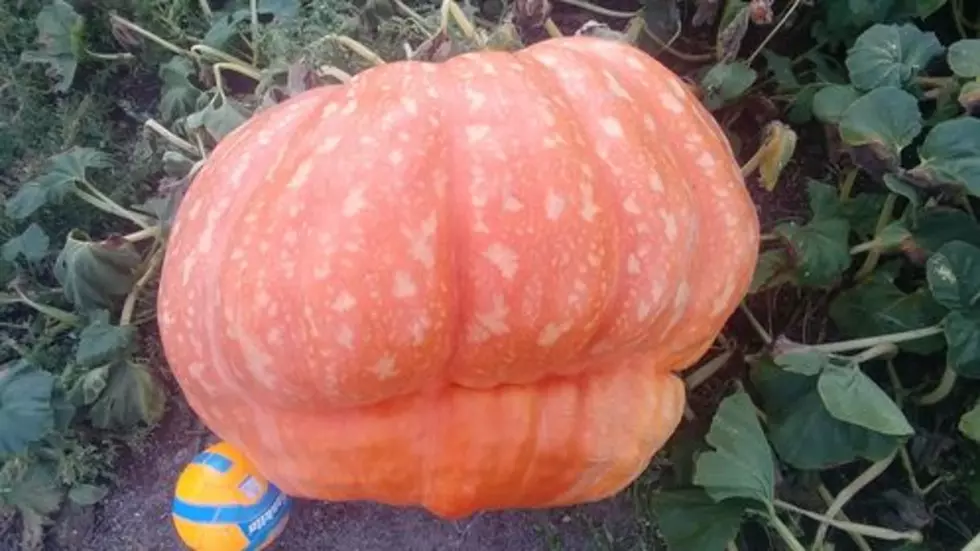 Growing Massive Montana Pumpkins Possible, If You Can Handle Their Thirst
Courtesy: Adam Wulf
While you're complaining about your water bill, Adam Wulf is so committed to growing giant pumpkins he used hundreds of gallons per day.
That's a commitment to a hobby he's willing to help you try.
Adam has gotten a reputation as Missoula's Massive Pumpkin Guy since he started growing the giant gourds after moving to Montana from Oregon. This year, armed with new seeds, better fertilizer, and a bigger greenhouse, he was more optimistic than ever. The hope was to break the unofficial Montana record, a 1200-pound whopper harvested by a Billings man last year.
But Adam says the cold weather that persisted throughout the spring "slowed everything down a lot." Then, the long, dry summer kicked in. 
Pumpkin Conditions Were Even Drier Than Last Year
"It was horrible," Wulf tells me. "I don't want to even guess how many gallons I put on a day. The patch is about 600 square feet or so. I'm running probably a couple of hundred gallons of water per day."
Adam says it is possible to grow the giant pumpkins in Montana if the summer conditions are just right.
"The biggest challenge is the weather," Adam says. "Especially the nighttime lows. They prefer the 50s for the lows and about 85-to-90 max for the highs. It's a real narrow range that is ideal for them."
And that's not all. When I heard about all the cans of water, cables in the ground, and wrapping the giants in blankets, I said it sounded like taking care of kids.
"Yeah, pretty much because once that seed gets started it's a pretty daily process of steps throughout until we harvest."
My wife called them my babies. -Adam Wulf, Lolo Pumpkin King
This year, Adam lost one pumpkin when the bottom rotted out at 450-pounds. But he's carefully caring for the survivor, a monster that could tip the scales at 550-pounds if the weather holds. 
Still, even with all the challenges, Wulf is happy to help others try this portly pumpkin sport. As long as they realize the effort it takes, and acquire the knowledge, and seeds, to succeed.
"Yeah, not your Home Depot variety of seeds. They are special genetic seeds," Wulf explains. "Where we get them from, there's different clubs around the country here that you can be part of. It's usually like 30-or-50 bucks to join the club. They send packets every spring from previous growers that are a part of it."
He says some of the best growers might even share their seeds if you send a nice note and a self-addressed stamped envelope. 
You can follow Adam's progress by checking Adam Wulf on Facebook. Or watch for him at Lolo events and feel free to ask questions about showing pumpkin is for more than pies and lattes. As long as you like them large. 
When is Apple Day in the Bitterroot? When the pies are done!
Behind the scenes in Montana making the best pies under the Big Sky