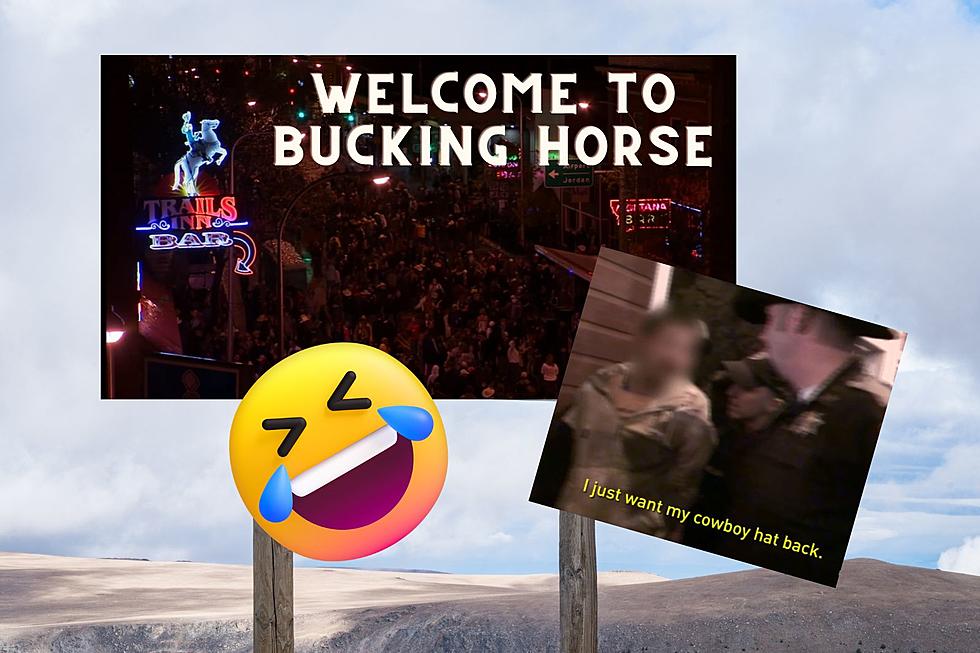 Unbelievable! Wild West Fun At Miles City Bucking Horse in 2011
Credit: Canva / YouTube
Today, in chatting with a coworker about the Bucking Horse Sale coming up this month in Miles City, I remembered a video from National Geographic on the festivities... and wild west rowdy fun... and had to share it with her. After doing so, it was only right to share it with YOU... so you're prepared for the party this year.
Frontier Force Visits The World Famous Miles City Bucking Horse Sale
Back in 2011, National Geographic's show "Frontier Force" picked Miles City as a stop on their program to feature Montana police forces in "America's Final Frontier". The show was fresh on the airwaves and was broadcast from 2011 through 2017.
As you can imagine for a small town dweller like myself, seeing a National Geographic truck there was a shock... but little did we know what they would capture on their BHS adventure.
From Rodeo to Street Dance
The clip starts by showing the rodeo closing down, and the Sheriff heading toward downtown Miles City, where the city has closed down a multi-block stretch to allow for a wild west "Cowboy Mardi Gras" to kick off. If you've never been to BHS, I'll tell you boldly that you are missing out on a WILD time.
Arriving downtown after the rodeo, the party is in full force. Showing clips of drunken cowboys and cowgirls, doing... questionable things. But, that's the beauty of BHS. You come not just for the rodeo and concerts, but to simply let "a little steam loose".
Cutting Loose Can Go Too Far
Though BHS is a blast, people tend to take it a bit too far. Or... drink a bit too much. And as National Geographic captured on their cameras... things do get a little bit western.
One such cowboy got into a bit of a scuffle in front of the legendary Bison Bar, losing his prized "white cowboy hat" in the process. Though the MCPD was understanding at first, soon the cowboy made it clear all he wanted was his big ol' hat back... and that ended as well as you would think with a flock of cops holding onto you as you fight back.
Stuff'd & Cuff'd
I always get a good laugh out of this saying. But hey, gotta do what you gotta do... and in this case, Mr. White Cowboy Hat learned a hard lesson "The more you mess around, the more you find out."
After a bit of a scuffle with the MCPD, this cowboy found out the meaning. Face first, boots last in the back of the patrol car. They never did comment if he got his hat back.
And so much more in 4 minutes
The video is a little over 4 minutes long and includes more than just a rowdy cowboy. Some back-alley shenanigans, bar fights, angry drunks and so much more. Check out the video below. (As the video is "Age restricted", you'll have to click through to YouTube to watch it... and be signed in. Sorry kids, no Cowboy Mardi Gras video for you)
Are you going to Bucking Horse Sale this year? Do you have your boots and hat at the ready? Let us know on App Chat or on Facebook.
Five Montana Lakes Worth the Drive
Need a place to cool off this summer? Here are five Montana lakes that are worth the drive.
What Has Been Left Behind in A Ride Home? Here Are 10 Of the Biggies That Folks Thought They Could Live Without
Has it ever happened to you? You arrive at your destination, begin to unpack and realize that one of the items you had when you left is no longer there. Read on to find out what the biggest items left behind are.