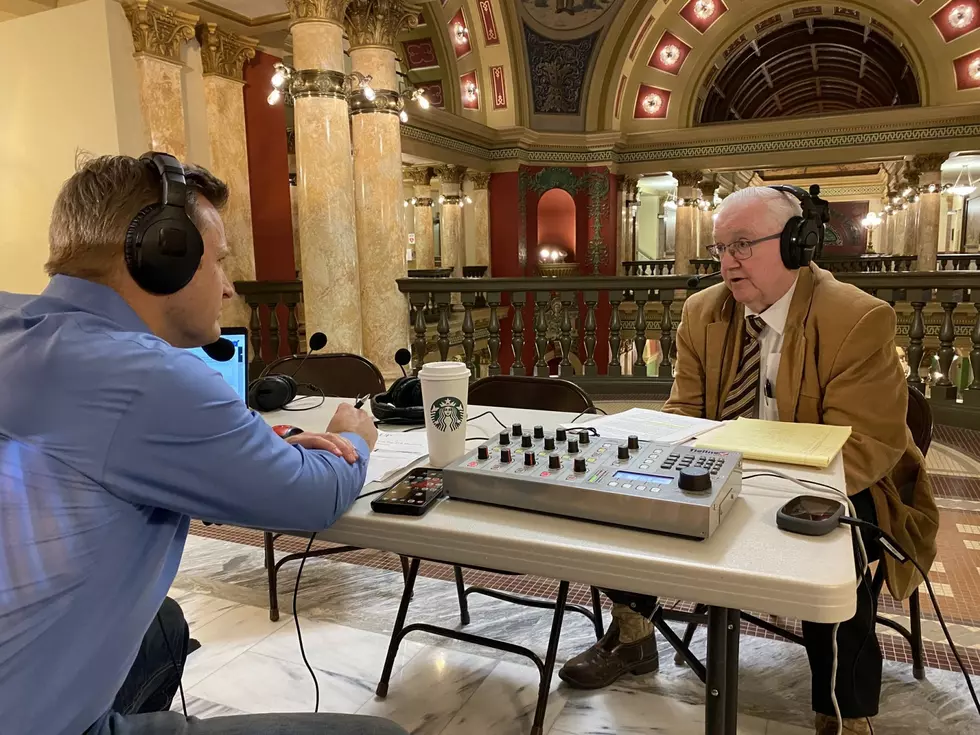 Day 2 of Our Montana Capitol Coverage
Credit MT Senate GOP, Aaron Flint on Left and Sen. Mike Cuffe (R-Eureka) on right.
43 different interviews in two days. We got a chance to catch up with a lot of Montana lawmakers, concerned citizens, and think tank leaders during our two days of LIVE coverage from inside Montana's Capitol on Monday and Tuesday.
On Tuesday's statewide show (9A hour), we talked housing policy and what we need to do to get more affordable housing online in Montana. Joining Frontier Institute President and CEO Kendall Cotton was Emily Hamilton, a housing policy expert at the Mercatus Center.
Montana Governor Greg Gianforte also dropped in to join us from the 3rd floor "fan window" of the Montana Capitol.
Gov. Gianforte: We've had a running start at this legislative session. Just one example- the work that the lieutenant governor has done on red tape relief. We've gone through every line of every regulation in every agency, and we kicked off this session with 170 red tape relief bills. Over 130 of them have already been transmitted from the House to the Senate or the Senate to the House.
I also asked the Governor how important is it that we insulate Montana, potentially, from what's going on with the national economy with what Joe Biden and Jon Tester are doing to our economy right now especially with inflation.
Gov. Gianforte: There's a number of steps we have to take and last session we made it very clear- we're gonna defend Montana and Second Amendment rights. That's why we passed a law and I signed it into law that said if the Feds pass restrictions on our Second Amendment rights- Montana law enforcement does not have to enforce them. A second action we just took recently- there is a movement, I'm not sure everybody's heard about it, called ESG. This is environmental and social governance and bottom line- it's elites in New York and San Francisco that are imposing their political will on Montanans pension funds. They're saying, 'Listen- no oil and gas, because that might affect the environment. We want to end systemic racism. And we don't want firearms manufacturers in our countries anymore. And they're placing those agenda items above financial performance. So we took a step recently with the Board of Investments here in Montana. We pulled back all the proxy voting on all the investments for all of Montana's pensions and the state reserves. We retracted $26 billion of voting so that we don't place activism ahead of financial performance, to make sure pensions are there. That's one step we've taken to make sure that these elites on either coast aren't telling us how to run our lives.

 
Here's the full audio of all 43 conversations from the capitol:
Top Stories in 2022 from Montana Talks With Aaron Flint