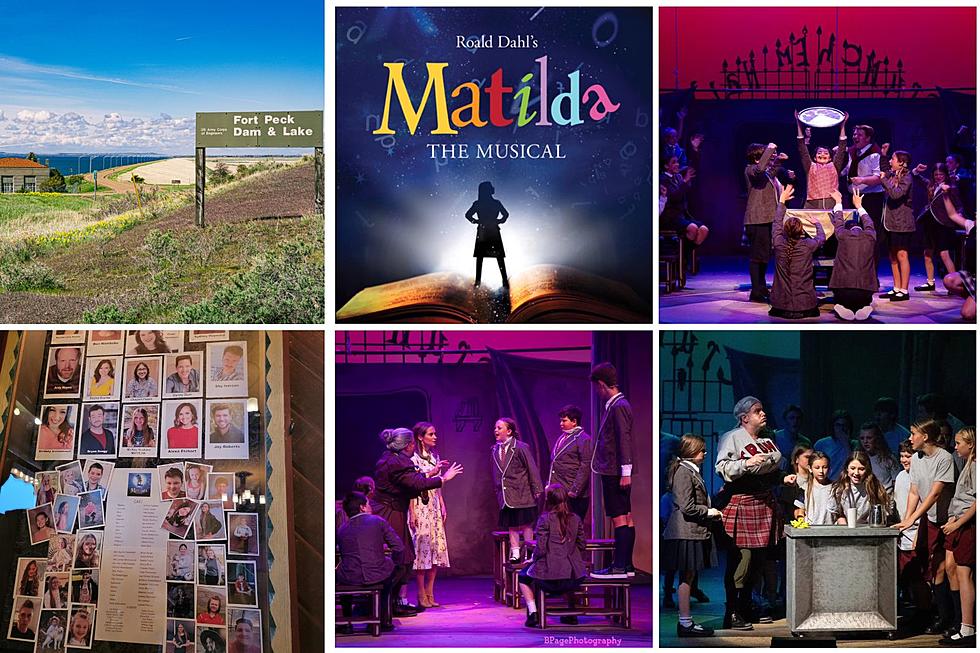 "Matilda" a Must-See at the Fort Peck Summer Theatre
Credit Fort Peck Summer Theatre/ Aaron Flint/ Canva
*Our Northeastern Montana coverage brought to you by Nemont Communications
The Fort Peck Summer Theatre in Fort Peck, Montana is definitely a hidden gem in Northeastern Montana. I got to be there for opening night of Roald Dahl's "Matilda."
I couldn't believe how impressive the young lady playing Matilda was. She had a LOT of lines and solos singing too. I said hi to her mom and dad, Paul and Jennie Yoakam, during the intermission. If you were at the show you would be just as amazed as me that the young lady playing Matilda is only about to enter 4th grade- and she's a local girl from Glasgow.
For those who remember the movie "Matilda" with Danny DeVito, you'll definitely fall right in line with the storyline. But this is actually the British version, and all of the kids did a great job with the accents.
The Fort Peck Summer Theatre provides a blend of local talent and professional talent to fill their roster. Before the show, our friend Jon Svingen was telling us about the great teamwork all the kids acting in Matilda have- and you could see that play out on the stage.
On Friday, while I was broadcasting from the 100th Wolf Point Wild Horse Stampede (thanks to our friends at Nemont Communications for sponsoring the trip), I caught up with the local MSU Extension agent- Wendy Becker. Not only is she the Roosevelt County Extension Agent, her 13 year old son Felix plays "Bruce" in Matilda. He has some singing, some dancing, and he is the one who gets the cake all over his face. He is also VERY entertaining. (Listen to our full chat with Wendy below)
By the way "Matilda" runs through July 23rd. If you don't want to make the drive to Glasgow- try flying Cape Air from Billings, or hopping on an Amtrak from Whitefish.
SHOWTIMES: Fridays & Saturdays at 7:30, Sundays at 4:00.

RECOMMENDATIONS: Arrive extra early due to large audience attendance.

Concessions, Gift Shop, Box Office, & Will Call open one hour prior to showtime.
Here's our full chat with Wendy Becker about the theatre, ag in Northeastern Montana, and more.